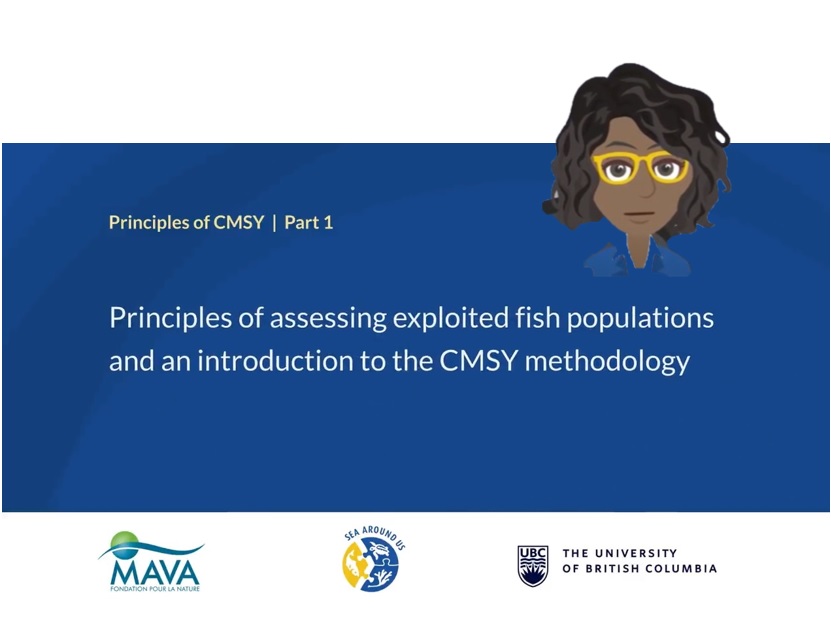 Sea Around Us data users interested in learning how to perform stock assessments using the CMSY methodology now have access to a suite of free video tutorials.
The step-by-step guides, available in English and French (with subtitles in Spanish, Portuguese, Italian, Greek, Arabic, Turkish, Japanese and Chinese) are presented in an easy-to-grasp animated video format led by a researcher named Ola.
Four ~6-minute consecutive videos make up the full course, starting with the theoretical principles that serve as a foundation for the CMSY methodology, moving into a more in-depth look at the contributions of M.B. Schaefer and the rules behind the CMSY approach, and ending with two sessions where a practical application of the software implementing the method is shown using data on the stock of sardinella along the coast of Northwest Africa.
"We often hear that reasonable effort control or other essential management tools cannot be implemented because 'there are no data'," Daniel Pauly, the Sea Around Us principal investigator, said. "But using this methodology we have been able to rigorously assess over 2,500 stocks of fish and invertebrates populations exploited in the Exclusive Economic Zones of all maritime countries and the high seas. This effort, which covered both data-poor and data-rich populations, allowed us to gauge how much fish is left in the global ocean."
For Deng Palomares, the Sea Around Us project manager, the easy-to-access animated tutorials can become a powerful tool for scientists and decision-makers to understand that stock assessments can be performed even when implementing state-of-the-art technology isn't an option.
"Making these resources freely available is key for future ocean management and conservation," Palomares said.
The videos have been uploaded on the YouTube video player, one of the lightest available online, so that users with different ranges of bandwidth can have easy access and watch them at their own pace, even pausing and reviewing sections as needed.
NGOs, academic courses, student groups and other organizations interested in having access to the free tutorials can visit the Sea Around Us YouTube channel and watch the videos at their own pace.
Follow-up questions can be sent to feedback(at)seaaroundus.org.
The videos "Principles of assessing exploited fish populations and an introduction to the CMSY methodology" have been prepared thanks to the support of the MAVA Foundation and in collaboration with UBC Studios.