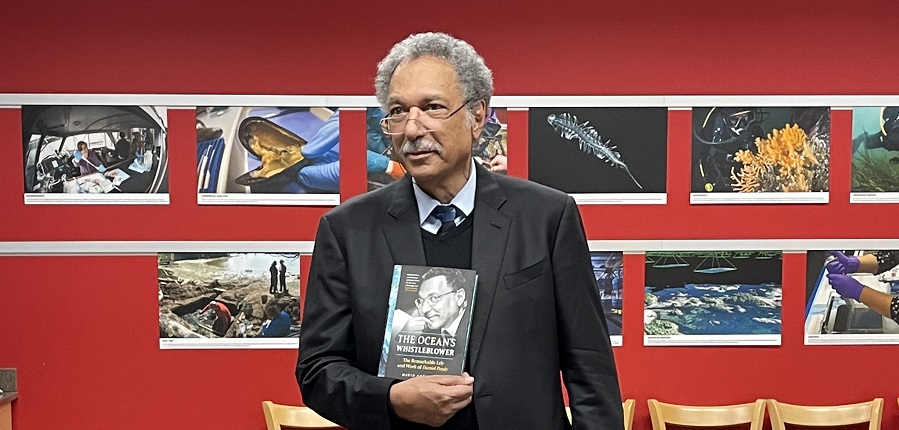 On June 9, 2022, in the midst of what is known now as World Oceans Week, the Sea Around Us hosted a successful event to present The Ocean's Whistleblower, the English version of Dr. Daniel Pauly's biography – initially released in French under the title Daniel Pauly : un océan de combats.
With COVID-19-related restrictions relaxing in British Columbia, the team – with the help of award-winning journalist and director of the Global Reporting Centre Peter Klein – put together an evening of delving into the science developed by Dr. Pauly, which ranges from global fisheries studies on slavery at sea to deep biological concepts such as the Gill Oxygen Limitation Theory.
Despite some technical challenges linked to the particularities of conducting hybrid events, a very engaged audience that included scientists who came from Norway and France, the CEO of a large NGO flying from Washington, university authorities, Dr. Pauly's current and former graduate students, and interested citizens, enjoyed an evening of both looking into topics such as the state of the world's fisheries and the effects of climate change on fish and learning about the workings of Daniel Pauly's mind.
Below is the recording of the event, which took place at The University of British Columbia's Institute for the Oceans and Fisheries and was supported by the Development Office of UBC's Faculty of Science and the Consulate General of France in Vancouver.