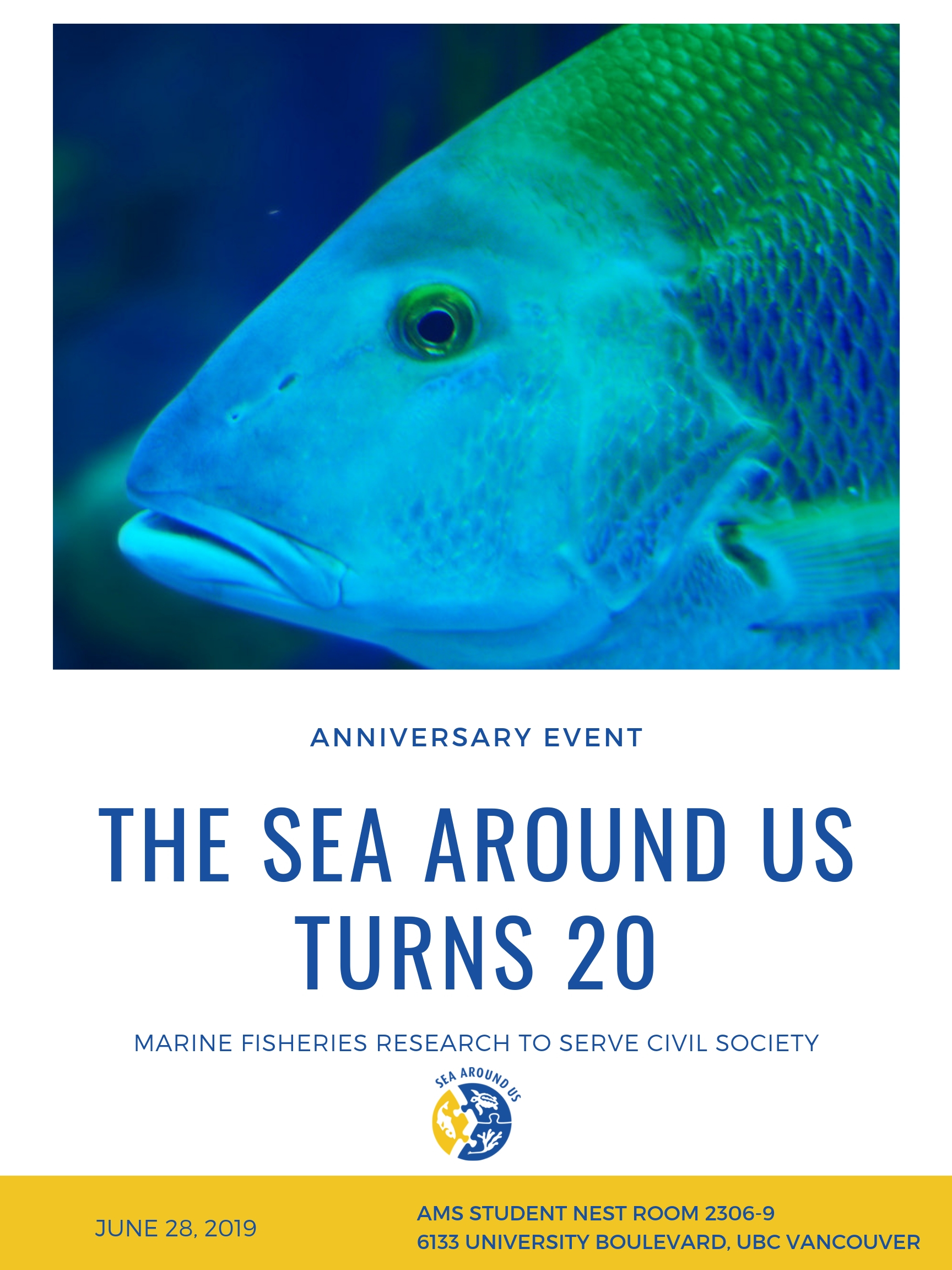 The Sea Around Us research initiative, based at the University of British Columbia and with a recently-opened 'branch' at the University of Western Australia, is turning 20 years old this June.
To celebrate the occasion, the team led by renowned fisheries scientists Daniel Pauly, Deng Palomares, and Dirk Zeller, is hosting a (sold-out) event at one of the greenest buildings –The Nest– on the beautiful UBC-Point Grey campus.
During this daylong conference, taking place on June 28th, 2019, national and international representatives of philanthropic foundations, environmental NGOs, scientists working on ocean issues, and current and former students will talk briefly of their collaboration with the Sea Around Us and provide advice for the future.
Among the VIPs joining this event we have Gail Murphy, UBC VP Research; John Tanzer, Director of WWF's Global Marine Programme; Jessica Meeuwig, director of the Marine Futures Lab at the University of Western Australia; Andrew Sharpless, CEO of Oceana; Imani Fairweather-Morrison, programme officer at the Oak Foundation, and many others.
In these past two decades, the Sea Around Us has produced major scientific breakthroughs related to the state of the world ocean's ecosystems, all of which have been registered in prominent scientific journals such as Nature and Science.
One of those important outputs was the data-substantiated estimation of global marine fisheries catches, which turned out to be 50 per cent higher than officially reported and which have been experiencing a decline of 1.2 million tonnes per year since the mid-90s. Such decline –the Sea Around Us found- was in part masked by China over-reporting its catches for over a decade.
The Sea Around Us was also the group that calculated that, every year, industrial fisheries throw back into the ocean 10 million tonnes of fish and that, together with this wasteful practice, an additional 20 million tonnes of edible fish are not destined for human consumption because they are turned into fishmeal and fish oil.
Media wishing to learn more about the Sea Around Us research are welcomed to schedule interviews with the leadership team. To do so, please contact Valentina Ruiz Leotaud v.ruizleotaud[at]oceans.ubc.ca. | @SeaAroundUs #SeaAroundUsTurns20.