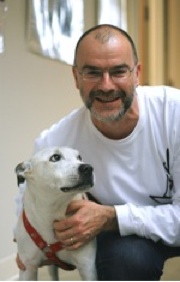 Dr. Dirk Zeller leads the Sea Around Us – Indian Ocean at the University of Western Australia (UWA), where he is also a Professor of Marine Conservation. He can be reached at dirk.zeller(at)uwa.edu.au.
Prior to this appointment, Dirk was a Senior Scientist and Executive Director of the Sea Around Us at the University of British Columbia (UBC, www.seaaroundus.org). He directs research activities of the Sea Around Us – Indian Ocean associated with the Indian and Pacific ocean regions in partnership with Prof. Jessica Meeuwig at UWA, and co-directs global research and strategic funding decisions with the Project Principal Investigator, Daniel Pauly and Project Manager and database team leader, Deng Palomares. Dirk leads research on catch reconstructions and illegal and unreported fishing, and engages in research on coral reef fisheries, ocean governance, fisheries policy and economics. He collaborates widely with colleagues around the world, e.g., with FishBase and SeaLifeBase (the global biodiversity information systems for fish and non-fish marine life), with the Fisheries Economics Research Unit (UBC, feru.oceans.ubc.ca) on issues in resource economics, with the Changing Ocean Research Unit (UBC, coru.oceans.ubc.ca) on issues of climate change and fisheries, and with legal scholars on issues related to international maritime boundary law and the UN Law of the Sea Convention.
Dirk has an established publications profile (Google Scholar h-index of 45, over 11,000 citations) with over 300 scientific contributions, and he publishes both in the primary literature (Nature, Science, PLoS ONE, Marine Policy, Marine Ecology Progress Series, Environmental Health Perspectives etc.) and in books (e.g., Global Atlas of Marine Fisheries) and dedicated book chapters and research reports. Dirk was awarded the 2017 Ocean Awards for Science (jointly with Daniel Pauly), co-awarded the 2012 UBC Innovative Dissemination of Research Award and the 2011 Ecological Society of America Sustainability Science Award. He collaborates with scientists in Australia, Asia, Europe, the Americas, Africa, the Caribbean, and the Pacific. He represents the Sea Around Us at conferences and workshops throughout the world.
Dirk has a background in tropical marine biology and fisheries ecology from James Cook University, Australia. He has professional interests in global marine conservation, fisheries and sustainability, as well as strategic and global policy developments, resource economics and coral reef ecology.
Click here for a full list of Dirk's publications, including PDF's