The Sea Around Us Principal Investigator, Dr. Daniel Pauly, and Project Manager, Dr. Maria 'Deng' Palomares, participated in a session of the European Parliament's Committee on Fisheries on January 24, 2023, to answer questions related to the report Role and impact of China on world fisheries and aquaculture.
The report, commissioned by the Committee, reviewed China's mariculture and marine fisheries with emphasis on the operations of its distant water fleets (DWF) and a focus on six countries where Chinese vessels compete with European fishing fleets, namely, Mauritania, Senegal, Madagascar, Mauritius, Ecuador and the Solomon Islands.
The study has also been prepared at a time when the EU-China cooperation in the area of fisheries and ocean governance has advanced but certain individual agreements with some Member States are about to expire.
While Dr. Palomares answered questions from the online audience, Dr. Pauly presented via a videoconferencing platform the report's main findings.
One major issue was the fact that there is a large discrepancy and uncertainty in the number of vessels comprising China's distant water fleets. The low estimate of 'visible' vessels is around 900, a number that has remained stable for the past 20 years, while a higher estimate assumes that about 2000 'invisible' vessels must be added, or even 15,000.
Dr. Pauly pointed out, both during his presentation and later on after being asked about this by a Spanish parliamentarian, that such a discrepancy may be due to the fact that some studies count vessels operating in waters close to China, for example off North Korea or Japan, as part of the Chinese distant water fleets, regardless of the fact that their home ports are in China.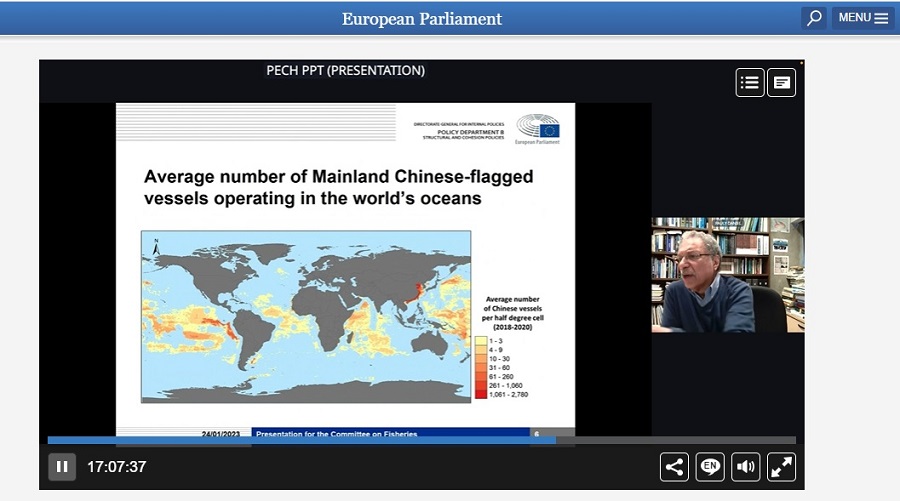 Access agreements and subsidies
When it comes to fishing in other countries' waters, China has signed a number of access agreements, but the details of such deals are opaque. Thus, a push for more transparency in instances such as the EU-China Blue Partnership Forum would be beneficial.
Another important theme in the report is the yearly USD 2.4 billion in subsidies that China provides to its distant water fleets operating in the Exclusive Economic Zones of other countries, particularly in West Africa, and the USD 68 million to its distant water fleets operating in the high seas. At the level of single vessel, however, the subsidies that the Chinese state provides to its fishing fleets are similar to those European countries give to their own distant-water fleets.
These subsidies are considered harmful because they increase the fleets' size by reducing their operating cost, for example, by providing cheaper fuel or tax-free import of spare parts, or reducing the interest of bank loans for purchasing new vessels, all of this while fish populations continue to decline.
Mariculture
With regard to fish farming, Dr. Pauly noted that China's mariculture industry reached 16 million tonnes in 2020 and it generates about EUR 52 billion per year. An overwhelming part of this production is mussels, clams, oysters and other herbivores.
In comparison, fewer fish and shrimp are produced, but they generate a huge demand for fishmeal. As a result, China has become the largest importer of fishmeal in the world, which is derived, in part, from sardines and anchovies. But these fishes are a staple in many countries, especially in West Africa, which means that fishmeal exports are competing directly with the food security of people.
Meanwhile, China has transitioned from a leading processor of fish raw material for re-export as primary products, such as fillets, to sourcing aquatic products for its own consumption, fuelled by its population's increased purchase power.
The presentation also touched on topics such as illegal, unreported and undocumented fishing practices, the granting of fishing licenses in the six countries of interest, what China's competition means for the EU, and policies and best practices the block can push for considering the interests of all parties.
This is necessary because, contrary to a still lingering belief that China will somehow fade away, it has now become a major international actor with which EU and other countries will have to learn to peacefully coexist.
To read the full report, follow this link. A summary version is available via this link.