Twenty-six fish and invertebrate populations that live in the waters of eight West African countries are likely overfished or at risk of being overfished, a new Fisheries Centre Research Report reveals.
Preliminary results from the application of the CMSY and LBB stock assessment methods to fish populations in the EEZs of Cape Verde, The Gambia, Guinea, Guinea-Bissau, Liberia, Mauritania, Senegal and Sierra Leone, indicate that some stocks – such as that of cassava croaker off the coast of Liberia – are strongly overexploited.
"In the specific case of the cassava croaker – said Deng Palomares, the Sea Around Us project manager and lead editor of the report -, the analyses yielded that current (2018) biomass is only 34 per cent of its level in 2009, which was then already much reduced from its original abundance. These results corroborate the IUCN Red List findings, which assigned this species to the 'Endangered' category in 2009."
Other populations analyzed that showed signs of overfishing were those of bonga shad in The Gambia, southern pink shrimp in Guinea-Bissau, European anchovy in Mauritania and round sardinella in Senegal.
In all of the 26 cases, the call is for prudent fisheries management to recommend a reduction of fishing effort until these stocks show signs of recovery.
Half of the assessments in the report were carried out by country representatives and academics as part of a workshop held in Senegal in September 2019, which was hosted by the Regional Sub-Commission for Fisheries (Commission Sous-Régionale des Pêches, CSRP) with the support of the MAVA Foundation.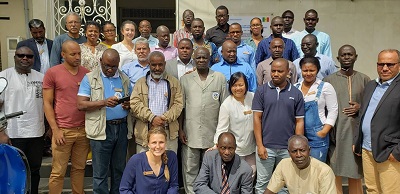 The four-day activity was titled "Use of the CMSY Tool for the Assessment of West African Stocks" and was led by Palomares together with the Sea Around Us' principal investigator, Daniel Pauly; research assistant, Jessika Woroniak; and then PhD student and now Dr. Myriam Khalfallah.
To further improve the availability of information on Northwest African stocks, the Sea Around Us team carried out an additional 14 assessments, based on reconstructed catch data combined into 'marine ecoregions,' on 11 species of small pelagic fishes from the eight countries in question. The rationale for this is the major stocks of small pelagic fishes in the region move seasonally across the boundaries of countries' Exclusive Economic Zones.
"We often hear that reasonable effort control or other essential management tools cannot be implemented because 'there are no data'," Pauly said. "We hope that this contribution will convince scientists and decision-makers in the CSRP region that stock assessments can be performed, and that they indicate that fishing effort in the region is excessive. Indeed, a reduction of fishing effort would allow these stocks to rebound, and allow greater catches."
The FCRR titled "Assessments of marine fisheries resources in West Africa with emphasis on small pelagics" can be accessed here.