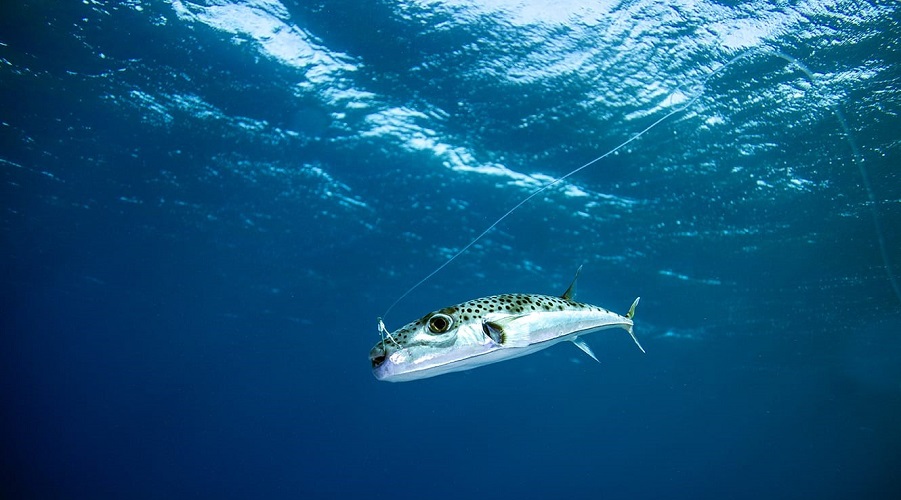 Silver-cheeked
toadfish Lagocephalus
sceleratus, a poisonous invasive
species thriving in the Eastern Mediterranean Sea since the mid-2000s after it
crossed the Suez Canal from the Red Sea, is now reaching monstrous sizes around
the Greek islands near the Turkish coast.
In a new
study published in the Journal of Marine
Science and Engineering, an international team of researchers document new
weight records and hypothesize that the main causes behind this pufferfish's
successful adaptation to the Mediterranean are its ability to feed on captured
fish from fishing nets combined with moving to colder, deeper waters, which lower
its oxygen demand.
"In order to get access to fish caught on fishing hooks or entangled in fishing nets, the silver-cheeked toadfish use their four very strong fused teeth to cut through fishing lines or through the meshes of fishing nets," said Aylin Ulman, lead author of the study and head of Mersea Marine Consulting. "This depredation not only causes substantial economic losses, particularly to the small-scale fishing sector, but it is also contributing to an increase in the size of this poisonous fish."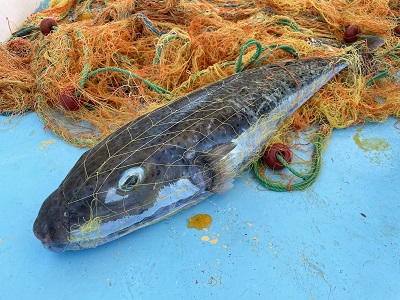 Four well-documented length and weight records, with the
heaviest one being 9 kilograms, were run through a computer routine based on
'Extreme value theory' which predicted that specimens of up to 110 centimeters
were likely to occur. This matches previous observations reported in Japan.
In the early stages of its invasion, the mollusk and crustacean-heavy diet of the silver-cheeked toadfish largely influenced its growth, as investigated by study co-author Stefanos Kalogirou in the late 2000s. However, as it adapted to its new habitat and became one of its top predators, its consumption of energy-dense fish increased and this, in turn, allowed it to grow bigger.
"Once they achieved a relatively large size, only a small reduction in oxygen demands by the fish's body is required for even larger sizes to be reached," said Daniel Pauly, co-author of the study and principal investigator of the Sea Around Us initiative at UBC's Institute for the Oceans and Fisheries. "In this study, we found that a reduction of about 10 per cent in its oxygen consumption metabolic rate is all that is required for this fish to be able to increase its maximum size from 6 to 10 kilos. This can be achieved by relying on the larger, energy-dense prey they capture with little effort when they break into fishing nets."
Another mechanism used by fish to reduce their oxygen demand is seeking deeper, cooler waters.
"Fish cannot regulate their own body temperatures. When the water gets warmer, as is happening in the Eastern Mediterranean Sea due to climate change, fish need more oxygen to sustain their body functions," Pauly explained. "Thus, they have two options: they either stop growing because gills, as 2-D surfaces, cannot maintain an oxygen supply that keeps up with the growth of 3-D body, or move to cooler waters. Given the increased sizes of silver-cheeked toadfish being reported, we believe that some individuals are choosing the latter."
The paper the "Dynamics of maximum lengths for the invasive silver-cheeked toadfish (Lagocephalus sceleratus) in the Eastern Mediterranean Sea" was published in the Journal of Marine Science and Engineering doi: https://doi.org/10.3390/jmse10030387