Asunción de Guzmán, aka "Sony" in the underwater-research scene, is passionate about sardines, particularly those caught in the Philippines.
In fact, she is so fond of the tiny pelagic fish that she flew all the way from Manila to Vancouver Island to present at the "Drivers of Dynamics of Small Pelagic Fish Resources" symposium, organized by the International Council for the Exploration of the Sea and the North Pacific Marine Science Organization.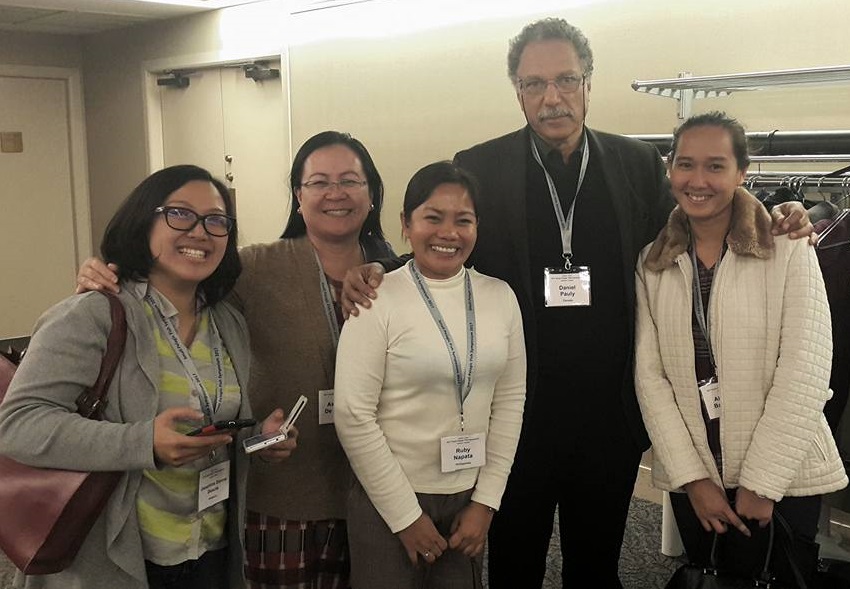 As a member of the FishBase Information and Research Group (FIN), Sony also visited the Sea Around Us offices at UBC once the Victoria conference ended and just hours before heading back home.
Guided by the Sea Around Us' Deng Palomares, Sony seized the opportunity and decided to share some of the findings of her research on the inter-annual variability of sardine production in the northern Zamboanga peninsula.
After taking a close look at environmental factors, such as the El Niño–Southern Oscillation cycle, and at anthropogenic effects, such as the seasonal closure of the fishery ordered by the government, Sony's group reached some interesting findings.
"In 2009, sardines actually collapsed following a 2008 La Niña. The fishery recovered and then it peaked in 2011. However, in 2012 the seasonal closures affected fishing effort. Despite this closure, production again peaked in 2014. This tells us that the overall production is not only associated with effort control, but that there are also natural variabilities," she said.
Human activities, the researcher added, have the largest impact on the sardine fishery. "The regulation wasn't strictly enforced. We did some satellite-based mapping and we found that there was still fishing effort of the industrial fleet active during the closure, so violations exist."
Why was it important to focus on the sardine fishery? "Because in the Philippines it is the top fish," Sony explained. To exemplify her statement, Sony said that after the devastating effects of the 2013 typhoon Haiyan, relief efforts relied heavily on the national stock of canned sardine to help those affected by the catastrophe.
"When we talk about food security, we can say that sardine is actually accomplishing that objective. It has a very well established processing and distribution industry. We also have two forms of processed sardines that enter the export market: canned sardine and botted or in-glass sardine. It is very important for the local economy and is food for the people, especially for the poorest," she concluded. Thus, this little fish is crucial to the fundamental food-security as well as economy of the Philippines, and national policies and management actions need to reflect this importance.
Please follow and like us: