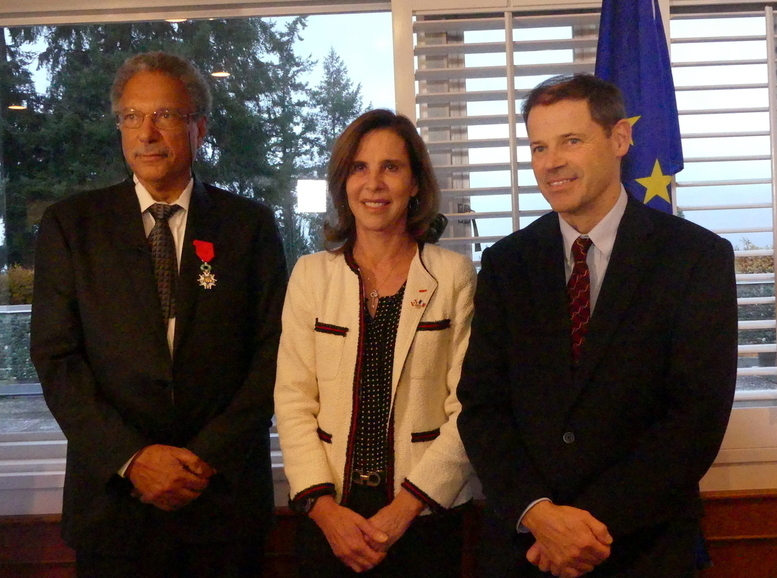 On French National Day, July 14, 2017, the Sea Around Us Principal Investigator, Daniel Pauly, woke up to some exciting news: President Emmanuel Macron had issued a decree naming him Chevalier de la Légion D'Honneur.
Later that day, Pauly received a phone call from the French consulate in Vancouver. He was told that the Ministry of Foreign Affairs had nominated him in recognition of his work researching the impacts of fisheries on marine ecosystems.
The Chevalier is a distinction in France's National Order of the Legion of Honour and it is granted, for life, to individuals with a minimum of 20 years of public service or 25 years of professional activity with "eminent accomplishments." Knights belong to The Order of Merit, which was created in 1963 by President Charles de Gaulle.
Following months and weeks of excitement and preparation, on November 16, 2017, the knighting ceremony was held at the University of British Columbia's Peter Wall Institute for Advanced Studies. Daniel's family, closest friends, colleagues, and students were joined by a select group of diplomats, dignitaries, famous environmentalists, and university representatives for the special occasion.
Opening remarks by university officials were followed by a video featuring UBC President, Santa Ono, who couldn't attend the event but wanted to congratulate Daniel on the special occasion. "Today's recognition, issued by the country of his birth, is not only another great honour, but also a symbol that will always remind him to continue working for the wellbeing of others," Ono said.
The Ambassador of France to Canada, Kareen Rispal, took the stage next and officiated the ceremony. "The Légion D'Honneur rewards people who have carried out actions of great value forged by their own merits. This was restated by President [Emmanuel] Macron a couple of days ago. Dr. Pauly: You have an impressive academic career and have played a crucial role fostering collaboration between Canada and France," Rispal started saying.
The ambassador continued highlighting Pauly's accomplishments as a scientist who has spent decades researching aquatic ecosystems in Africa, Asia, Oceania and the Americas and how to develop tools for managing data-sparse fisheries. "UBC President Santa Ono just mentioned that you have written more than 1,000 articles. Some of these papers were published in the most prestigious peer-reviewed journals, including Nature and Science, but also in Scientific American, which demonstrates your will to make your research accessible to everyone, including the general public," she added.
Before imposing a badge with a silver five-armed "Maltese Asterisk" on Pauly's left chest, Rispal had a final message for him: "I feel honoured and pleased to thank you by bestowing upon you the medal of the knight of the Légion D'Honneur."
Echoing the ambassador's message, Daniel Pauly gave a speech highlighting that, beyond advancing scientific knowledge, what really moves him is providing tools of knowledge to those who need them the most. "When I began working in Indonesia, I saw colleagues who had no access to the literature, or to books, or had salaries that didn't allow them to make photocopies and at the time we had no Internet. So the question was how can they do their work? And many of my colleagues had excellent training in the U.S. or in Europe but they couldn't work because they didn't have the concepts or the tools that were needed, and so I started a series of initiatives that would help overcome, at least in my discipline, these handicaps," he said.
Pauly explained how such initiatives actually helped him empower many of his colleagues and how receiving the medal of Chevalier de la Légion D'Honneur is a recognition not only of his academic and scientific merits but also of his social work.