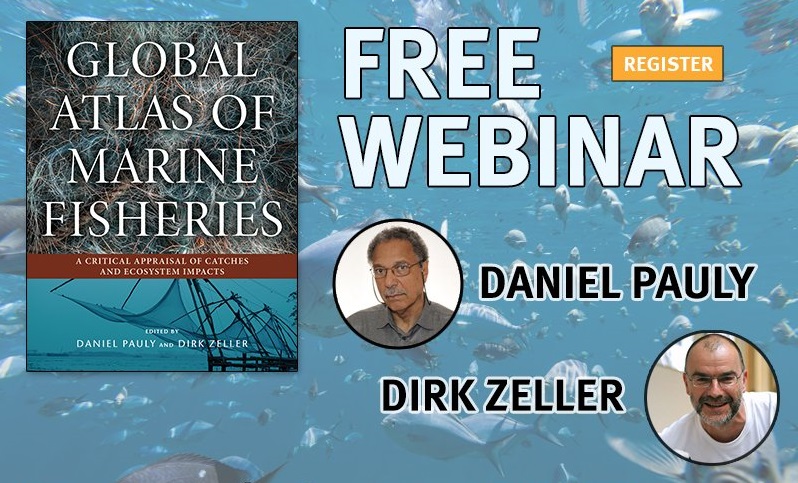 On July 26, 2017, Daniel Pauly and Dirk Zeller hosted a free webinar where they talked about the history of the Sea Around Us, the process of producing catch reconstructions for over 200 countries with the help of almost 400 scientist volunteers from around the world in a +10-year period, and the reward of having this work published by Island Press in the Global Atlas of Marine Fisheries.
The Security and Sustainability Forum, together with Island Press organized the webinar. The moderator was Ayana Elizabeth Johnson, blogger for National Geographic and founder of Ocean Collectiv, a consulting firm that creates and amplifies solutions for a healthy ocean.
More than 400 people registered for the session titled "Global Atlas of Marine Fisheries: What is happening with marine life?" Attendees joined from all corners of the world, from Vancouver (Canada) to Stanford (USA), and from Birmingham (UK) to Brasília (Brazil). Their occupations are as varied as their places of origin, as many of them work for different government agencies and NGOs, in the education sector, in the industry and even in the media.
For about 30 minutes, everyone listened with attention to the explanations by Pauly and Zeller on how the Sea Around Us reconstructed catch data for 273 Exclusive Economic Zones using a variety of sources, from official statistics to anthropological studies, and how they compiled such data in the Atlas and on the Sea Around Us website. The scientists also delved deeply into why it is important to have more accurate catch numbers for ecological, societal and economic reasons.
Following their presentation, the researchers opened the mic for questions from the audience. Attendees jumped in right away with insightful queries such as "How do you account for 'illegal fishing' practices that some countries do in the high seas, such as Chinese fishermen, in the South China Sea?" or "Do different types of fishing practices target different trophic levels disproportionately? So, have previous estimates of global catch using just industrialized fishing misrepresented the ecosystem level effects?"
Even high school students signed up and were inspired by Dr. Pauly's and Dr. Zeller's words.
Thank you @SeaAroundUs, @DrDirkZeller, @ayanaeliza, #danielpauly & @ssgovforum for a thorough & insightful presentation on global fisheries

— oceanfutures (@oceanfutures) July 26, 2017
If you were not able to join the session, enjoy the full video of the presentation here. If you have any questions, don't hesitate to reach out to us via feedback(at)seaaroundus.org
The Atlas of Global Marine Fisheries from Security & Sustainability Forum on Vimeo.