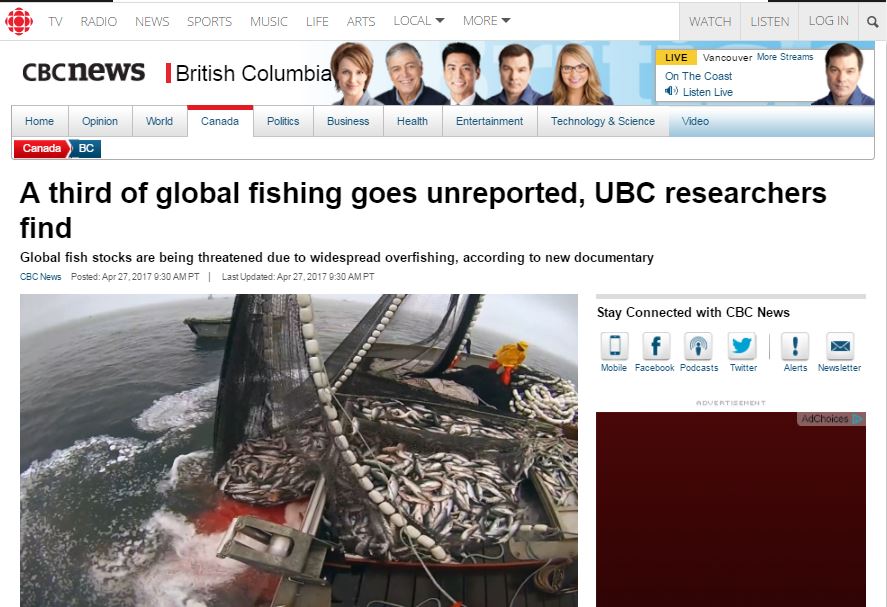 On April 28, 2017, the Sea Around Us organized the first Canadian screening of the film An Ocean Mystery: The Missing Catch at the University of British Columbia's Institute for the Oceans and Fisheries.
The event attracted dozens of people from the Lower Mainland's environmental community, as well as UBC students, faculty and staff.
An Ocean Mystery was directed by Alison Barrat from the Khaled Sultan Living Oceans Foundation and it follows the Sea Around Us Principal Investigator, Dr. Daniel Pauly, as he and his colleagues piece together a true picture of the amount of fish we have taken from our oceans and the speed at which we are running out of fish.
The Vancouver screening sparked a renewed interest from the press and the public in the topic of unreported fish catches. Interviewing the Sea Around Us Senior Scientist Dr. Dirk Zeller, CBC's Gloria Macarenko asked about the difference between the figures provided by officials to the Food and Agriculture Organization and the real amount of fish being removed from the world's oceans.
"Fifty per cent more fish were actually taken out, were caught by fisheries around the world (from 1950 to 2010), than the officially reported data that countries provide actually would suggest," Zeller said.
In a half-hour long interview where members of the audience called to ask questions and express their concerns, Zeller explained the methods used by the Sea Around Us and its network of almost 400 scientists to reconstruct the catch data of every coastal country on our planet.
Listen to the full interview here (min. 25:20) and read the spin-off story here.
Dirk Zeller was also interviewed on the topic by Mark Brennae on CFAX 1070.
An Ocean Mystery: The Missing Catch will be aired on the Smithsonian Channel Canada on May 7th at 10 p.m.
You can also watch highlights from the screening and Q&A session at UBC in the below video.
>