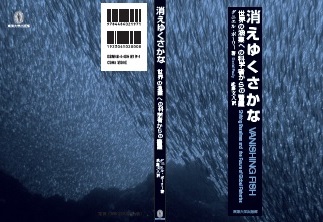 Vanishing Fish, the book of essays the Sea Around Us' Principal Investigator, Dr. Daniel Pauly, published in 2019, now has a Japanese edition.
Dr. Fumihito Muto, a professor at Tokai University's School of Marine Science and Technology, was in charge of the translation, which is available to the public as of February 28, 2021.
"In July 2019, I found Vanishing Fish on Amazon. After reading it, I wanted to translate this book for Japanese general people including young students," Muto said.
This is the second of Pauly's books that Dr. Muto translates into Japanese, the first one being Darwin's Fishes: an encyclopedia of ichthyology, ecology and evolution, a joint effort he undertook together with Dr. Mutsumi Nishida.
Muto's interest in fisheries science and fish evolution drew him to Pauly's publications in the early 2000s.
"At that time, I thought that there were several 'Paulys' in the marine research field, so maybe they were members of the Pauly family, like Daniel Bernoulli and his family in mathematical sciences," Muto recalls.
When, in 2005, Dr. Pauly received the International Cosmos Prize in Osaka and later on met with him in Tokyo, Muto realized all the 'Pauly' publications he had read were produced by a single person.
"He said 'which book do you want to translate?', and the question was the seed of the next translation."
Both in English and in Japanese, Vanishing Fish explains that the world's fisheries are in crisis as catches are declining and stocks of key species, such as cod and bluefin tuna, are but a small fraction of their previous abundance, while others have been overfished almost to extinction.
The book shows how the oceans have been depleted and how the commercial fishing industry increasingly depends on subsidies to remain afloat.
Most of its 22 chapters are essays in which Pauly offers a thought-provoking look at the state of today's global fisheries —and a radical way to turn it around.
The Japanese version, moreover, includes a 23rd chapter titled "From a Basement Office to the Imperial Palace," in which Pauly narrates his experience visiting Japan to receive the Cosmos Prize.
From ceremonious encounters with the Crown Prince and his wife at the Imperial Palace and with the Governor of Osaka Prefecture to a dismissive meeting at the Ministry of Agriculture, Forestry and Fisheries, Pauly rememorates both with humour and respect his experience in the Land of the Rising Sun.
"Fisheries research, similar to agronomy, has less prestige, at least in Western countries. However, in the late 1990s and early 2000s, people began to realize that fisheries had negative impacts on global biodiversity. My scientific papers and articles in other media may have helped this realization. Thus, the Cosmos Prize from a foundation in Japan, where fisheries – since the Jōmon Period – have always been taken seriously," Pauly wrote.