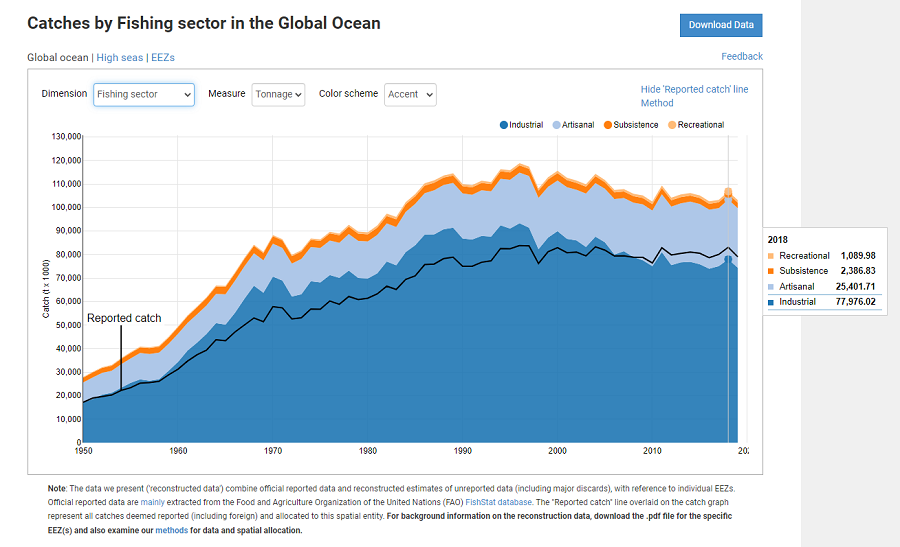 The Sea Around Us is pleased to announce that the marine fisheries catch data and derived indicators have been updated to the year 2018.
After months of intensive work by our teams in Canada, the
Philippines and Australia, we can now proudly say that time series with 69
years' worth of data (1950-2018) are available for free on www.seaaroundus.org.
This update required our teams to manage over 10 billion rows
of data, the largest compilation of information we have processed in the past
20 years.
In addition to our regular catch data update by Exclusive
Economic Zone (EEZ), Large Marine Ecosystems (LME), Marine Ecoregions (ME),
Regional Fisheries Management Organizations (RFMO), High Seas, Global and FAO
Area, users will now have the opportunity to access data by estuaries and coral
reefs.
These new data – which are available for all the taxa in the database – have been
incorporated by matching the affinity
of fish and invertebrates to these two ecosystems.
Users can access the data on catches by estuaries and coral reefs by scrolling down to the 'Ecosystems' section located midway on each EEZ page.
In the future, the goal is to improve this section by assigning catch data to
fronts and seamounts, as well as adding new ecosystems, namely seagrasses and
mangroves.
The documentation of data, methods, and assumptions made for
this update are presented for each country and territory in the "reconstruction
references" section.
We welcome feedback from users of our data, particularly in
terms of elements that can be improved.