In September 2018, the Sea Around Us Principal Investigator, Daniel Pauly, traveled to Singapore to take part in a conference titled "The South China Sea Fisheries Cooperation: Progress, Problems and Prospect," which was organized by Nanyang Technological University's S. Rajaratnam School of International Studies.
As keynote speaker, Dr. Pauly gave an overview of the fisheries in the South China Sea. Using the Sea Around Us catch reconstructions of the countries in the area, he explained who is catching what, and outlined major trends in catch composition and catch per effort.
"One of the things I emphasized is that some countries in the South China Sea area have miserable statistics, unreliable statistics," Pauly said.
Besides the issue with the inaccuracy of the numbers, the Sea Around Us PI also said that the region is showing signs of failing fisheries. "The trawl fisheries have reduced fish abundance so much that many countries are fishing very small, so-called 'trash fish,' which are then fed directly to farmed fish or poultry. Some people think this is good because at least they don't discard the catch. However, in a sense, it is a recognition of failure because these small fish, instead of being allowed to grow before they are caught, have to go through the stomach of another animal before they can be eaten by people."
On a more positive note, Pauly praised the fact that the meeting focused on finding solutions to issues such as illegal fishing practices in the Indonesian part of the South China Sea, the challenges of establishing marine protected areas or how to set up cooperation mechanisms with Taiwan.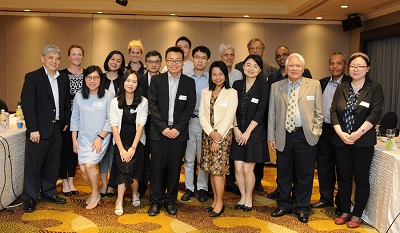 "The emphasis was on cooperation around the topics about which agreement can be achieved while avoiding topics that cannot be talked about, the major one being the fact that Mainland China has allocated to itself a large part of the South China Sea," Pauly said.
The idea –he explained- is that these different countries, each looking after its own interests, reach a consensus and start building trust so that, once the abovementioned situations are dealt with, the more spiny issues can be tackled.
"This is because one of the cultural characteristics of people in Southeast Asia is to avoid direct confrontations. Instead, you discuss issues that you can agree on, and build trust," said Pauly, who lived for over 20 years in Southeast Asia.
The Sea Around Us leader expressed being pleased about the fact that representatives from the governments China, Singapore, Taiwan, Thailand, Vietnam, Indonesia, and Malaysia – several old friends and colleagues – were able to meet discuss important topics, with representatives from Civil Society, notably from universities and NGOs.