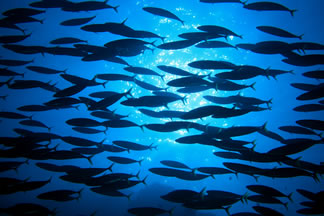 The Sea Around Us is a research initiative at the University of British Columbia and the University of Western Australia. The program assesses the impact of fisheries on the marine ecosystems of the world and offers mitigating solutions to a range of stakeholders.
The Sea Around Us was initiated in collaboration with The Pew Charitable Trusts in 1999, and in 2014, the Sea Around Us also began a collaboration with The Paul G. Allen Family Foundation to provide African and Asian countries with more accurate and comprehensive fisheries data. At present, it is funded by a number of charitable organizations (see our Partners page for more information).
We provide data and analyses through Tools and Data, peer-reviewed journal articles, and a News section. We regularly update our products at the scale of countries' Exclusive Economic Zones, Large Marine Ecosystems, the High Seas and other spatial scales, and as global maps and summaries.
We emphasize catch time series starting in 1950, and related series (e.g., landed value and catch by flag state, fishing sector and catch type), and fisheries-related information on every maritime country (e.g., government subsidies, marine biodiversity). Information is also offered on sub-projects, e.g., the historic expansion of fisheries, the performance of Regional Fisheries Management Organizations, or the likely impact of climate change on fisheries.
The information and data presented on this website is freely available to any user, granted that its source is acknowledged. We are aware that this information may be incomplete. Please let us know about this via the feedback options available on this website. And for updates on our research, website tools, and related topics, sign up here for our email News Alert.