Dr. Maria 'Deng' Palomares is a senior scientist and the project manager of the Sea Around Us initiative at UBC's Institute for the Oceans and Fisheries, where she started as a research associate two decades ago.
A marine biologist from the University of the Philippines with a specialization in computer science and a doctorate from the Ecole Nationale Supérieure d'Agronomie de Toulouse, Dr. Palomares arrived at marine biology and fisheries science after switching from the 'hard-to-stomach' practices of medical school.
Despite medicine not turning out to be her ideal path, she still wanted to do research to improve people's lives. She discovered she could do this by investigating food-security related issues within fisheries science.
After taking her first steps in this field at the International Center for Living Aquatic Resources Management, Dr. Palomares was invited to join the Sea Around Us, where she now leads a team of researchers in charge of applying a newly developed, computer-intensive method of 'stock assessment' to the catch statistics of essentially all maritime countries in the world.
Q. What inspired you to become a researcher?
Dr. Palomares: I started out taking industrial engineering courses because that's what my father wanted me to be. But in those days, industrial engineering was such a male-dominated field, to the point where there were no women washrooms at this college.
Later on, I went to medical school but soon learned that I couldn't handle the fumes from the chemicals used in anatomy classes. I never wanted to practice medicine anyways; I wanted to do medical research.
As I was thinking about what I could do to match research with the other things I loved, such as the ocean, I remembered Ms. Buendia, a teacher who taught at my high school and who had a master's degree in marine biology. She really inspired me back then and, thus, I decided to follow her path but added my own twist — an electronic data processing component, which sounded like science fiction in the 1980s, especially in a developing country like the Philippines.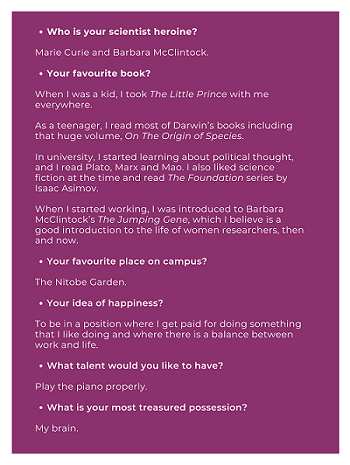 Q. You must have been one of the few women with that kind of academic background?
Dr. Palomares: Yes, indeed. In fact, when I got my first job at the International Center for Living Aquatic Resources Management, now known as WorldFish, all of the scientists were men, towering over mostly female administrative staff (secretaries, librarians, receptionists, etc.). I was the only woman research assistant at the time. However, I must say that, later on, I was joined by other research assistants, all of whom were women.
I remember getting the job right after doing an interview where I was asked to code a linear regression exercise in BASIC, which I did on a board and explained each step of the process to the director of the program, Dr. John Munro, and to the program's scientist, who now is my supervisor here at UBC, Dr. Daniel Pauly.
Right away, they asked me "when can you start?" and I thought it was a joke because it happened to be April 1st that day.
Even though I didn't know much about fish taxonomy at the time, I quickly learned and Dr. Pauly helped by teaching me all the tools of the trade, from what is the length and weight of a fish, to basic biological assumptions like if it's a small species, you know it's a fast grower and you know the maximum age would be four years.
Q. What is the significance of your research?
Dr. Palomares: The thing is that we like to eat fish and we fish the hell out of fish populations in the world. But we do not see our impact on fish populations because unlike cows, pigs, goats or sheep, fish are not visible to the naked eye when they are below water. Our control over fish is mostly blind and thus, we make lots of mistakes and wrong assumptions.
However, I believe that all of the studies that we have published and all the tools that we have built through the years are helping us create a clearer picture of how much has been taken out, what the current trends are, and what the best practices are to prevent our oceans from being depleted. If widely used, our tools and data should help better manage fisheries so that our kids and grandkids and their kids will still enjoy fish that is wildly caught.
Q. Are there many women scientists conducting this type of research?
Dr. Palomares: I don't think so, at least not in our building where two out of 12 faculty members are women. The issue is that most male faculty members – as we have seen through the years – tend to provide more opportunities for students who are men.
This is why – maybe as a way of balancing things a little bit – I hire female research assistants because I would like to see more women in this department. Hiring more women means training them and increasing their ability to become researchers, such that if they decide to go for graduate studies and then for tenure track positions, they will have already learned the tools and are prepared for what it means to be in academia.
I want to push for the next generation of tenure track positions (at least those ten-year tenure positions) because, unfortunately, UBC doesn't allow this for research associates, who end up being ghostwriters in research proposals. As research associates, we spend a lot of time teaching/training both students and team members even if it's not in a classroom setting. I believe that if the university wants to have a bigger role when it comes to excellence in terms of research, then research associates should be formally considered as research faculty and be a real part of the research thrust of the university.
---
This article is one of the many stories celebrating International Day of Women and Girls in Science, which takes place every year on February 11. Spearheaded by the United Nations, this day promotes full and equal access to participation in science, technology, and innovation for women and girls. The Faculty of Science is supporting this day by featuring ten inspiring women researchers who are making their mark at UBC and beyond science.ubc.ca/womeninscience.