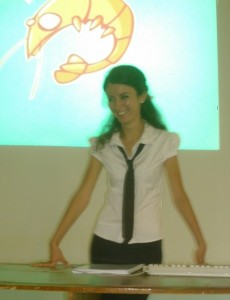 Dyhia Belhabib is a Research Associate and Fisheries Scientist for the Sea Around Us at the University of British Columbia (UBC). She works on Fisheries equity and food security and issues that affects them such as illegal fishing, unfair fisheries agreements, lack of appropriate fisheries data, climate change and governance. Her work focuses greatly on adding transparency and insight through thorough research on African fisheries. As the Lead engagement for Africa, she works closely with national and regional bodies, government, non-government and professional organizations towards the uptake of catch reconstructions and she builds local capacity and strong collaborations between The Sea Around Us and many partners in the region by conducting numerous training activities from Vancouver and in Africa.
Dyhia completed her PhD under the supervision of Dr. Daniel Pauly in Resource Management and Environmental Studies at the Fisheries Centre, UBC, in 2014, just hours before she had her baby. As a researcher that focuses on one of the most problematic fisheries regions in the world, she reconstructed fisheries catches of all sectors for 22 countries of West Africa, assessed the economic and societal importance of small-scale fisheries in the region and how their resilience and performance were affected by illegal fisheries, climate change and lack of adequate data. Dyhia's research and engagement work translated in major policy changes in countries of West Africa.
Select publications
Belhabib, D., Hellebrandt Da Silva, D., Allison, E.H., Zeller, D., and Pauly, D. In press. Filling a blank on the map: 60 years of fisheries in Equatorial Guinea. Fisheries Management and Ecology.
Belhabib, D., Mendy, A., Subah, Y., Broh, N.T., Jueseah, A.S., Nipey, N., Boeh, W.W., Willemse, N., Zeller, D., and Pauly, D. 2015. Fisheries catch under-reporting in The gambia, Liberia and Namibia and the three large marine ecosystems which they represent. Environmental Development. doi:10.1016/j.envdev.2015.08.004
Belhabib, D., Sumaila, U.R., and Pauly, D. 2015. Feeding the poor: contribution of West African fisheries to employment and food security. Ocean and Coastal Management, 111: 72-81.
Belhabib, D., Sumaila, U.R., Lam, V.W.Y., Zeller, D., Le Billon, P., Kane, E.A., and Pauly, D. 2015. Euro vs. Yuan: comparing European and Chinese fishing access in West Africa. PloS one 10(3): e0118351.
Belhabib, D., Koutob, V., Sall, A., Lam, V.W.Y, and Pauly, D. 2014. Fisheries catch misreporting and its implications: The case of Senegal. Fisheries Research, 151: 1-11.
Belhabib D and Pauly D, editors (2015) Fisheries catch reconstructions: West Africa, Part II. Fisheries Centre Research Reports 23(3). University of British Columbia, Vancouver. 128 p.